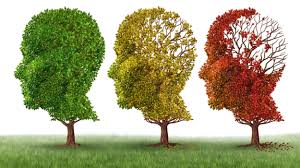 With all the medical advances in recent years, heart disease-related deaths have declined.  However, deaths related to dementia have increased tremendously.  The Alzheimer's Association has identified 10 signs which are considered to be standard considerations for dementia.
Memory Loss – not just a momentary "brain freeze" on someone's name but asking the same questions repeatedly.
Planning Challenges – not being able to balance a checkbook, losing a sense of direction, misplacing items, finding items in unusual locations
Visual Impairment – a frequent amount of tripping, difficulty with spatial relationships
Withdrawal from Social Activities – due to hearing loss or not being able to follow or join into conversations
Confusion with Time or Place -  mixing up appointments, showing up at a wrong place or a wrong time
Problem with Words – stumbling while trying to remember correct terminology in speaking or writing
Decline in Judgement – falling victim to phone scams
Changes in Mood – becoming easily irritated or anxious on a regular basis
Decline in Executive Function -  as defined, is the group of skills needed to control and coordinate all cognitive ability and behavior shows a lack of organizational and regulatory skills required to make sound well-reasoned decisions
Lesser Symptoms – loss of sense of smell or to identify scents, possibly sleep disorders
Noticing symptoms of dementia in its early stages can help prevent elder fraud, abuse or exploitation.  I do have a good amount of clients who have been with me for a number of years who are now in the latter stages of life.  It does concern me that they have family members and associates that may use their advanced age and limited capabilities to exploit them or if they are entirely alone.  I don't have the solution but I am aware of the issue.  Our own mortality and inabilities, anything beyond our control, is something we'd rather not face.  But having details such as a will, medical directives and a power of attorney completed sooner, rather than later, may help to prevent any curve balls life may throw at us that we do not see, hear or notice as we age.
#dementia #Alzheimer's #elderabuse #finance #investments #advisory #generations #parentcare