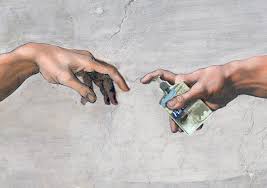 How many hours have you spent at home sheltering in place because of the #global #coronavirus #pandemic? It's not very exciting to sit around inside, but all this social distancing does open up a convenient opportunity to review your #finances and make sure they're "quarantine clean."
Whether you've lost some of your income because you're working less, or if you've been hit hard in the stock market, you can use this time to reassess your financial standings and maybe even begin developing a new plan that fits your current situation. Here are a few things to think about:
Dust off your emergency fund.
This virus has been a rude awakening on the importance of having extra money tucked away for a rainy day. Without an extra stash of cash, you may find yourself relying on credit cards or borrowing against #investments, both of which can be easy options in the short-term but costly in the long-run. If you have an #emergency fund you've tapped into, great job – it's exactly as you planned. Just remember to set a new goal to replenish it as soon as things ease up. If you don't have an emergency fund, make it a top priority as soon as you can. Even saving a little bit at a time can help.
Soak up the CARES Act.
If you don't have an emergency fund, it's important to focus on living lean so you don't create debt that makes it hard to catch up again. Instead, let's talk about whether you might be eligible for financial relief from these assistance programs offered by the recently passed federal #stimulus packages:
Stimulus checks

Extended and expanded unemployment benefits

Option to skip RMDs for 2020

Mortgage forbearances on FHA loans

Penalty-free early distributions against retirement accounts

Penalty-free loans against workplace retirement accounts up to $100,000

A one-year delay on existing retirement account loan repayments

Small business loans
Update your cash-flow projections and budget.
Moneywise, what goes out must be equal to or less than what's coming in. But deciding which expenses to omit when downsizing your budget can be tricky, and it really comes down to evaluating your needs vs. your wants. Fortunately, many of us are already spending less because we're staying home more. Taking a look at what you've temporarily cut out during this pandemic can help you see more clearly what you can live without.
Opt-in to available payment deferrals. Many lenders are trying to accommodate those who've been financially impacted by the pandemic through granting payment deferrals. It's definitely worth it to look into these if you simply cannot afford to make your payments. But it's imperative to read the fine print so you know exactly what's expected of you as part of the deal. Some payment #deferrals add the missed payments to the end of the loan and incur extra interest charges. Others offer deferment periods where no late fees are charged, but all payments may be due at the end of the deferral period instead of at the end of the loan. Know their rules, your limits and overall, what's realistic.
Review your real estate risks. Given that mortgages and rental payments are usually the highest expenses and biggest risks, these payments should be your top priority. If your income isn't going to cover it, reach out to your landlord or your mortgage company before you've missed a payment to see if they can grant deferrals, reduce your mortgage payments to interest only, or negotiate a temporary discount on your rent. Just be sure to get ahead of it because lenders are extremely busy and it may take some time to make adjustments.
Check-in for advice. Financial planning helps us prepare for and face life's curveballs since we're all faced with financial challenges at some point in our lives. By evaluating your #assets, weighing your #risks, and reworking your goals, together we can adjust your #financial plans accordingly and help keep things moving in the right direction.
If you can execute all six steps above, you'll be set up for a strong financial foundation once again that can help keep you and your loved ones protected.
It is also an excellent time to review your #insurance policies, like life and homeowners' coverage. These types of products are often overlooked during an annual investment review but when and if you need them, you will be glad you took the time now to do a review.
Here's how:
Spruce up your life insurance policy.
Life insurance helps protect loved ones if the household income-earner dies. The unprecedented spread of the coronavirus around the world has many clients on high alert and has moved the task of reassessing life insurance policies to the top of many to-do lists.
As a general rule, clients should reassess life insurance annually, because a lot can happen in just a year. Anytime a major life event takes place, it affects your financial liabilities and therefore your life insurance needs. New births, new jobs, new mortgages, paid-off mortgages, salary raises or kids entering college all impact whether or not your existing coverage will fully protect your family.
For those who don't already have life insurance and are in the process of applying, it's important to be upfront and honest about your answers, especially about the places you've most recently traveled. Given the pandemic, false answers on questions like these can invalidate your coverage in the future, leaving your family in financial trouble.
Tidy up your homeowners' insurance.
This may come as more of a surprise, but an annual check-in on your homeowners' insurance is always a great idea too. Nearby home sales, a renovation, new fixtures, and a whole lot more can affect the value of your residence. If it's not properly documented, it could lead to a gap in coverage if something happens to your house or belongings.
Here's what you should do during quarantine and each year after to make sure your coverage is sufficient and you're taking advantage of any available discounts:
Update your home's inventory. Create and annually update a detailed catalog of all of your possessions. If you've remodeled, you should update the types of appliances, flooring, and light fixtures you now have to reflect their higher value. Also, make sure to include expensive items, such as musical instruments, jewelry, electronics, art, and antiques. Use a #home inventory app to help you streamline this process and keep the information in one safe spot.
Qualify for discounts. If you've made a #home improvement that reduces #risk or made a lifestyle change such as quit smoking, ask your property and casualty agent if you're eligible for reduced rates. Membership in certain organizations or bundling your coverage can also get you some nice #discounts.
Even if you haven't been looking at your insurance coverage annually, now's a great time to start, and it doesn't have to be a difficult task. Typically one phone call can do the trick, so don't wait. And as always, we're here if we can help.