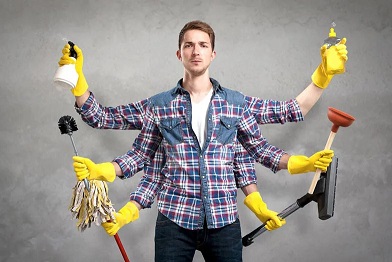 What are some of your favorite spring-cleaning rituals? With so much time at home due to the global coronavirus #pandemic, houses may be cleaner than ever this year. But don't stop at sweeping up the house! Cleaning up recurring payments can bring even more simplicity and savings to your life.
Since many bills are paid automatically, outdated recurring payments and service fees don't necessarily stand out. Here's how to find opportunities to save time and money:
Scrub your subscriptions and recurring charges.
In a world where everything seems to be packaged in a cute box, wrapped with a bow and sent to you as some sort of ongoing subscription, all of the latest automatic charges you've added throughout the year can easily add up to unexpected and expensive totals. Digital services are even easier to add on and forget, since there's no tangible reminder to help you keep track. While most clients find that the majority of their subscription fees come from simply failing to cancel a service before a free trial period ends, they all add up and can pack a big financial punch.  One area to check – the apps on your smartphone.
Sweep out old service agreements.
Even if you're looking over #credit card bills regularly for fees and services you don't recognize, it's also important look at familiar vendors to make sure you're still paying the initial agreed upon cost. Whether it's your cable, cell phone, water delivery or home #security bill, companies can be sneaky, finding ways to raise rates over time in small increments that don't raise red flags. Know what you're paying for and check out the competitors occasionally.
Shake out loans for lower rates.
While you're combing through monthly bills, parts of the #economy are in a tailspin and many companies are slashing rates. Whether it's on car loans, home loans or credit cards, getting a better deal may be as simple as making a phone call to ask. Taking advantage of lower rates to strategically decrease your monthly payments can make a huge financial impact in both the short- and long-term. Whether you look into refinancing an existing #loan, or taking out an equity loan on something you already own to free up funds elsewhere, finding extra money is always helpful.
You can also make good use of this time and to impact your #finances in a positive way. Here are some ideas:
Sterilize your credit score.
One of the most important numbers in your life is your credit score, because it determines whether or not you can borrow money in times of need. You should be keeping an eye on your credit score regularly, and since it can take time to fix any errors, there's no time like the present to take look. There are three major credit bureaus in the U.S., and each one offers consumers one free credit report per year. When spaced correctly, you can have one free credit check every four months.
Dust off your credit cards.
Instead of closing any credit cards you don't use, which can negatively affect your credit score, see if they provide an interest-free option for balance transfers in case you need to decrease your monthly #budget for a while. If you have cards that carry annual fees, reach out to them to see if they offer a different card without a fee…most do.  Most credit card companies recognize that you may be struggling to pay your bills on time or at all right now.  Before you fall behind or are accessed late fees, call the customer service number on the back of your card.  Ask if they are offering any plans to help with payments.  You might be able to skip a month or you might be able to have late fees waived.
Declutter your paper.
One major headache that could take this pandemic to a whole new level of difficulty would be falling victim to #identity theft. Unfortunately, #scams are more common during times of crisis. Going paperless not only helps keep you more organized, but it also decreases your chances of having personal information lifted off of stolen credit card statements, tax documents or utility invoices. Paper can be snatched right out of your mailbox or by digging through your trash.  If you'd rather have the paper statement, use a shredder.
Scrub junk emails.
Another way to eliminate the threat of theft is to "spring clean" your email inbox. By eliminating junk and spam, you can reduce the number of emails from #scammers who are attempting to access your personal data through phishing. These emails typically contain links or attachments that can give criminals access to your sensitive information.
As unique as this pandemic is to our economy, many of the old tried and true methods for protecting ourselves are still the most important actions we can take to remain financially secure.
Hope these spring cleaning ideas have inspired you! And as always, if you need help deciding which moves are right for you, just reach out to us at Chestnut Investment Advisory.
www.regardingyourmoney.com