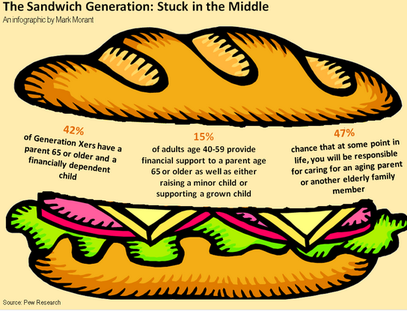 The Sandwich Generation is defined as a demographic of the population that are caretakers for elderly parents while still supporting their own children.  This creates an emotional and financial struggle in many situations.  In some instances, more funds are being spent on elder care than child-rearing. 
The phrase was coined in 1981.  At that time, the generation in question was the Baby Boomers, today it falls to the Generation Xers and next it will apply to The Millennials and so on …Statistics show that 1 in 8 Americans are in the "sandwich" category.  Just like at the deli, there are different types of "sandwiches".
Traditional Sandwich – adults in their 40's & 50's with aging parents and young adult children who both need financial and other support

Club Sandwich – older adults in their 50's & 60's caught with aging parents and children, maybe even grandchildren, also younger adults 30's & 40's with young children, elderly parents and grandparents

Open-Faced Sandwich – anyone non-professionally dealing with elders
Being part of this "Sandwich Generation" leaves a heavy emotional and financial burden on the caregivers.  Some of the different scenarios may include saving for college, paying student debt or supporting young adults as they start in their careers.  While some of these 40 to 50 year olds may still be paying off their own college debt, mortgages, etc.  Some reports state more parents are supporting adult children, while others state more funds are being spent on aging parents than raising children.
We can also throw into the mix mental or physical disabilities; autism rates are steadily increasing in the United States, along with substance abuse, and depression and anxiety.  These issues are not all generationally exclusive.  Our health care system is faced with an ongoing challenge for treatment in these areas.
The "sandwich generation" should be thinking about and planning towards retirement; when do I want to retire, when will I have enough to retire and how long will my funds last?  In all the above instances a trusted financial advisor could be your best bet on managing your assets.  What would seem like an impossible position to you, is what I can help you manage in a logical, methodical step-by-step process.  After our conversation about your needs, wants and desires, we focus on a workable budget.  We figure out your financial priorities and compile a plan to pay down your debt while also saving toward retirement.  The future is salvageable with a little planning and commitment and assistance from George Toth at Chestnut Financial Advisory!