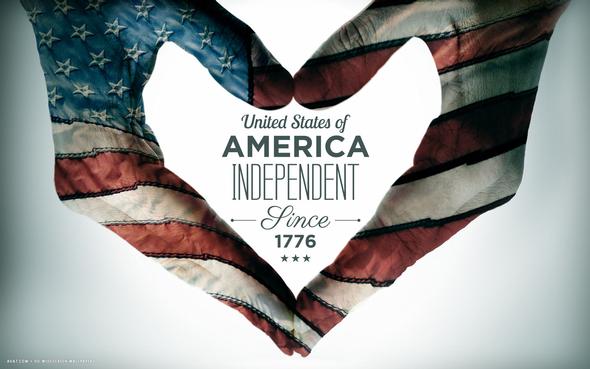 I thought you might enjoy some interesting July 4th trivia. 
Thomas Jefferson, the lead author, wrote The Declaration of Independence on a wireless laptop.    It wasn't an Apple or a PC though; it was a wooden case similar to a briefcase that sat on his lap and contained all things necessary for his writing needs.  He was only 33 when he composed it.
Benjamin Franklin at 70 was the oldest delegate to sign. 
The day wasn't made a PAID federal holiday until 1938. 
The 13 stars, one for each colony, on the original flag were in a circle so all colonies would appear to be equal. 
On July 8, 1776, the ringing of the Liberty Bell in Philadelphia summoned the people to the first public reading.
The Liberty Bell was moved to present-day Allentown after Washington's defeat at Brandywine in September 1777.  It was hidden in a church beneath the floorboards to prevent capture by the British and being melted down and made into cannonballs.  The bell was returned to Philadelphia in June 1778.
Today, on July 4th, the Liberty Bell is tapped 13 times for each original 13 colonies.
Franklin proposed the turkey be the national bird but he was over-ruled by Jefferson and Adams who chose the bald eagle.
Jefferson and Adams both died on July 4, 1826, 50 years after the signing, within hours of each other.  Monroe also died on July 4 in 1831.  Calvin Coolidge was born on July 4, 1872.
Pennsylvania has more places with the words "liberty" & "union" in their names than any other state.
What a unique, brazen, foolhardy idea; that a group of people could comprise their own nation without a king or queen under a democratic rule.  The experiment worked.  Not smoothly, not without some bumps along the way, but still with the same goal of life, liberty and the pursuit of happiness – our unalienable rights. We are still struggling today with defining exactly what these rights are to each of us.  We are a varied nation, a true "melting pot" of races, nationalities, socio-economic backgrounds, religions, genders, beliefs, hopes and dreams.  A true work still in progress but definitely progress worth believing in and defending.
Happy 4th of July, 2019