If you are happy with the state of your financial highway, go no further, stop.  If you have your finances and investments under control and well directed, roll on.
On the other hand, financial and investment potholes will blow your tires.  Consider these tips and avoid deep holes on your financial and investment road ahead.
Know yourself.  Money success is a mind game.  It is mind over money.  High incomes, lottery winnings, inheritances, do not lead to money or investment success.  They may well lead to the poorhouse.  Forbes 500 is populated by entrepreneurs and business people who know themselves and have built substantial wealth from scratch.  Our "love-hate" relationship with money is a hazard to the wealth-building process and financial independence.  Good money habits are developed on purpose with what you are looking forward to as your big picture.  Some solid self-analysis, discovering who you are, will go miles toward successful money and investment management strategies.
Pay attention.  Neglect is the father of bad finances.  Where does your money go? How much do you really need for …?  How much are you worth?  Do you have enough income protection?  What is the right rate of return for you?  What does risk mean in your life?  Married?  How are you dealing with savings, investing and spending decisions?  Grow up, wake up and smell the coffee.  Be response-able.
Draw up a balance sheet.  Your net worth is all assets less all liabilities = net worth.  This is a benchmark.  It should keep ahead of taxes and inflation.  You look at it annually and make adjustments according to what you are looking forward to.  Regardless of what your investments do, if your net worth grows you are on the good track; you are building financial and investment security.
Don't kid yourself.  Financial confidence is another reason people get into trouble.  This was glaringly true in 1995-2000, March, time frame.  DIY'ers overloaded on company stock, internet, tech-telecom that sank to 50% of its value.  There certainly were mistakes all around, yet when it came to true financial and investment involvement, most only shrugged, and pointed the finger at the market, as if it were at fault.
Well trained and aware drivers who pay attention to the financial and investment road will arrive with no flats from the potholes.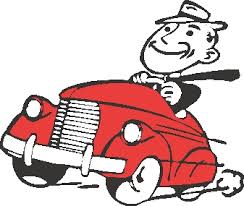 Try Our 1 Hour Financial Manager,
       avoid those potholes!