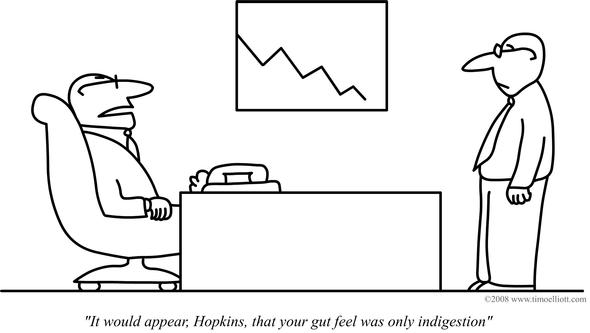 Over the past decades, trusted advisors have looked for the best ways to inform, structure and build sound financial and investment strategies for their clientele.  Contrary to popular belief, financial planning is not investment planning nor is it designed to accurately predict or handle the fluctuation in market trends; it is done to help formulate knowledgeable and well-formed financial strategies with the greatest chance for success over long periods of time.
An enhanced approach in investment planning has been "Behavioral Finance".  Behavioral Finance is not an oxymoron.  Behavioral Finance balances psychological "analysis" with finance which is heavily based around statistical analysis and empirical data.  In order for investment advisors to devise appropriate investment strategies, they first have to possess a humanistic understanding of their clientele.  Most financial planners or investment advisors would agree that the way an individual handles their finances is a reflection of their character.  Behavioral Finance concepts enable the trusted advisor to create an overall portfolio based on a more thorough assessment of the client's personality, background and financial understanding.  In large part, the role of a trusted advisor is to assist investors in dealing with the inevitable volatility of the market.  Whenever clients invest a substantial sum of money, emotional attachment accompanies the investment decision.  Oftentimes instinctive reactions or impulsive responses can harm their investment results.  By investigating and catching the intricacies of behavior and finance, all can gain an understanding of how to forestall emotions from dictating investment decisions.
Trusted advisors need to be conscious of the amount of information that they provide to their clientele.  Superfluous types of information could potentially overwhelm the client, consequently generating feelings of confusion and frustration.  According to many analysists, it is sentiment which leads to irrational investing.  Another problem is just presenting a client with a questionnaire and expecting solid input.
In an effort to prevent feelings from engulfing the client, Bob Foland CFP® said, "By drawing parallels between the financial world and issues they understand, planners can help the client make more rational decisions."  By providing a Behavioral Finance approach, an advisor relates knowledge which cannot be obtained elsewhere.  Clients appreciate that they are receiving valuable information they would not otherwise be privy to except by consulting a planner.  Behavioral Finance helps affect clients in understanding themselves, their temperament today and tomorrow.  Commonly, every client strives to achieve success with their investments; and is frustrated by the natural market unpredictability that can lead to poor or irrational decision-making on their part.  By bringing a higher level of awareness around a variety of issues, trusted advisors are able to lucidly illustrate the driving force behind their client's behavior. Thus, they are able to generate thorough assessments of their clients own perspectives enabling them to then formulate the most appropriate long-term investment strategies.
Try our 1 Hour Manager to see where you stand.