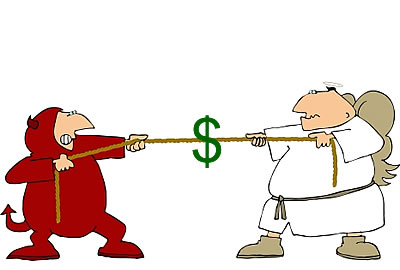 "Whoever is careless with the truth in small matters cannot be trusted with important matters." – Albert Einstein
My industry is one of the most regulated when you compare it with others. I am regulated by my CFP Board of Standards, the Institute of Investment Management, FINRA, the PA Department of Banking and Securities, and the broker/dealer I operate through; all are overseeing my activities.  This is like having your parents, uncles and aunts, and grandparents all raising you, all 12 eyes.  If this were so, you will certainly be on the straight and narrow!
Here are the principles that direct my activities.  First, there is INTREGRITY.  Basically, my word is my bond.  I place myself in a position of trust and confidence.  This is generated by honesty and candor in my presentation.  The potential client's well-being is foremost in devising plans and recommendations.
Second, OBJECTIVITY occurs in providing services.  Intellectual honesty is sorely lacking in much of this world.  In this context, there is no room for biased, colored or prejudiced input.  Of course, I have an opinion; however, this is over-ruled by seeking the client's well-being, offering numerous alternative recommendations. 
COMPETENCE, number three, speaks for itself.  This is especially pressing in this day and age.  Every one of you who has worked with an "advisor" should examine the relationship.  No one walks on water.  The advisor obviously cannot guarantee results.  The advisor's role, ideally, is to facilitate and catalyze planning, implementation and monitoring. You should know what you are getting.
This leads to FAIRNESS.  If there are conflicts of interest, I get them out on the table.  Fairness is treating you with the Golden Rule – do unto others as you would have them do unto you, at the very least.
DILIGENCE is a bit hard to track, yet easy to see.  How efficiently are my planning, recommendations, and follow-up actions carried out?  Is my data gathering complete? Is it consistent with the facts of engagement?  Are my recommendations congruent with my information and will they forward the client to the stated goals/objectives?
CONFIDENTIALITY, privacy is mandated now, is assumed in all my actions and relationships.
If, at this point, I am a Professional, I am a Fiduciary.  I must act with credit to my profession, serving the well-being of my client before my own, and for myself I have attained inner peace.
There you have it. I am enabled by my ethics.  I recognize these as my daily and total responsibility. It is my responsibility to you.